Heat Resistant Tape: High temperature, flame and fire resistant. Manufactured to various widths and thicknesses.

These tapes are used to wrap and protect wires, cables, hoses, pipes and tubes to provide thermal insulation and protection. Some tapes provide electric insulation. Tapes can be used to seal doors and access panels as a high temperature gasket seal.

Widths are as narrow as 1/4" and may be up to 40" or 60" wide.
---
Fiberglass Tapes: Heat and High Temperature Resistant
Woven, Non-Woven, Knitted, Adhesive & Non-Adhesive
Available Coatings: Silicone Rubber, Teflon, Vermiculite, Aluminum Foil
Silicone Rubber
Coated Fiberglass Tape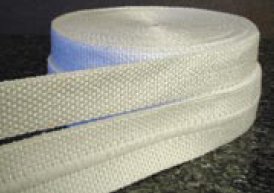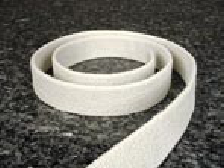 Knitted Fiberglass Tapes
Woven Fiberglass Tapes
Vermiculite Coated Woven Fiberglass Tapes
Teflon Coated Fiberglass Tapes
Heat Reflecting Aluminum Coated Fiberglass Tapes
Wire Inserted Tape
White Rubber Tacky Cloth Tape